United Methodist Church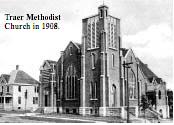 History of Traer United Methodist Church

Methodist religious services in the Traer area were provided by circuit riders long before the town was on the map. These ministers rode on horseback from place to place offering worship experiences and conducting other pastoral duties. The first Methodist class meeting was held in a log cabin northeast of town with Rev. Solomon Ingham delivering the first sermon in this part of Tama County. A new church building was started in the village of Old Buckingham 1 1/2 miles northwest of Traer in 1868 and dedicated the following year.

When the railroad arrived in 1873, the town of Traer was established and the church moved next door to its present location. In the spring of 1906 the present site on the corner of 4th Street and Hwy. 63 was purchased; the brick church was constructed and a parsonage was built next door.

The sanctuary of the church has been remodeled and updated over the years; and the parsonage at 506 5th Street has been used since 1967. Today the church building houses the NE Tama County Food Pantry and is available for meeting space for MOPS, scout troops, 4-H, and other community organizations. The United Methodist Women offers two service groups, and there are active choirs on both children and adult levels. The Sunday school has adopted the Workshop Rotation Model where members of the congregation volunteer for short term creative teaching opportunities. An extensive "Prayer Chain" is available both by telephone and e-mail.

Special interest in missions more recently earned the church "Rainbow Covenant" status, and several members have participated in short term mission projects Oklahoma, Arkansas, and for Habitat for Humanity. Foreign missionaries in the past included Mary Washburn, Daniel and Mabel Reid. There have been at least five people from our congregation who have gone into the pastoral ministry.